I started reading a book that I received for Christmas. I think that the book was only fitting to receive at Christmas since it's about Jesus and that's the whole reason for the season. It is called "The Relentless Tenderness of Jesus" by Brennan Manning. I have only gotten to the third chapter so far. Not that it's a long book or a difficult book, it's just full of a lot of information. Each chapter is packed full of ideas that make me think that the life I'm leading isn't necessarily the one that God wants me to lead.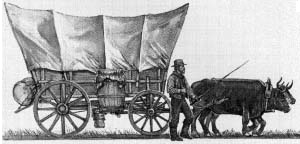 For instance, I shouldn't be leading my life, I should be letting God lead and I should follow. Also that I should be more of the Pioneer type and not the Settler type. Settlers live by the law and their works alone and keeping in line with all the town dictates. Whereas Pioneers adventure out into the wilderness and the wild and forge new paths on the way to the Kingdom, the final stop.
I want to be that type of person. The pioneer who lives in the covered wagon, follows the Jesus (the Scout), eats what the Holy Spirit (the Buffalo Hunter) provides to the the Clergyman (the Cook), all while keeping my Covered Wagon (the Church) with me where ever I go, while I follow God (the Trail Boss) to a future and a hope and a life worth leading, living and participating with my Family and for my Father God. That is the life I want. I don't want to settle for any thing and I don't want to settle on the rules and regulations, I want to live and just just survive. That is the life that God wants for each of us and I want it too.
I'm going to try and post about my readings in this book and what I get from it. My different feelings and also just in general what it means and hopefully how it can help any one who is interested. This will be my Pioneer year into the future that God wants me to live. I want to see what God wants of me. How I can be a blessing to others and how I can learn more about loving God. My life is not my own any more. It belongs to God and I want to live it that way. One step at a time. One day at a time. One hour at a time and sometimes each second that is available to me.
Dear Father in Heaven,
I wish to know you more and the love you have for me. I want to take each day and allow you to lead me through it. Take and be your follower and not a fan. Give you the permission and the rights to my life and allow you to show me what you want me to do. To follow your guidance and direction and be a Pioneer on the trail that you lead and establish.
Amen.
Let the Adventure Begin and let it Begin with me and Begin Here!